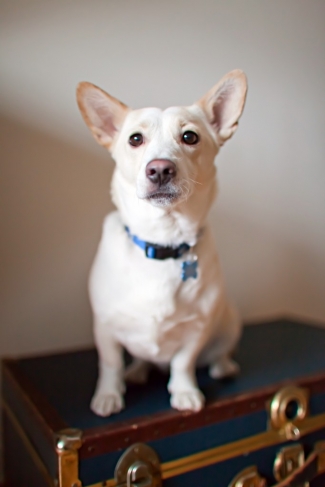 Seren is my partner in crime, my sidekick. She came to us NYE 2011 all the way from South Carolina.
My ongoing search for a Corgi was proving futile, but thanks to social media networks we got a heads up. As soon as we heard that she was going to be put to sleep, we just had to rescue her. So once we gave the ok, she was on her way being driven through a snow storm to get to New Jersey. At first she seemed traumatized. But once I opened the door to her new home, it instantly seemed like she knew everything was going to be okay. And I may be just a teensy bit bias here, but she is seriously the best dog ever.
And I am constantly dumbfounded every time I think that such a good dog was going to be put to sleep. Getting Seren drastically reinforced the importance of adopting in my eyes. She has a second chance at life, I have the greatest friend anyone could ask for.

Two months after getting Seren, adopt-a-pet.com sent an alert matching my criteria. I had forgotten to take myself off the mailing list now that we had found our furry friend. But once I checked out the picture of 4 month old Happy, the Corgi/Shetland Sheepdog mix, we just couldn't pass him up. We adopted him from Hope Animal Rescue the following week.
This bundle of energy is not afraid of anything and thinks he's one of the big dogs. Nothing phases him, and he's completely adorable when he's not being a little trouble maker. We were going to rename him Corgi, but since his face is definitely a Sheltie mug, it didn't seem to fit right. Then it was between Starfox (after an old video game and because he resembled a fox) or Swift (the fox from David the Gnome. I told you I was geeky, lol). In the end, we felt that Starfox suited him better.